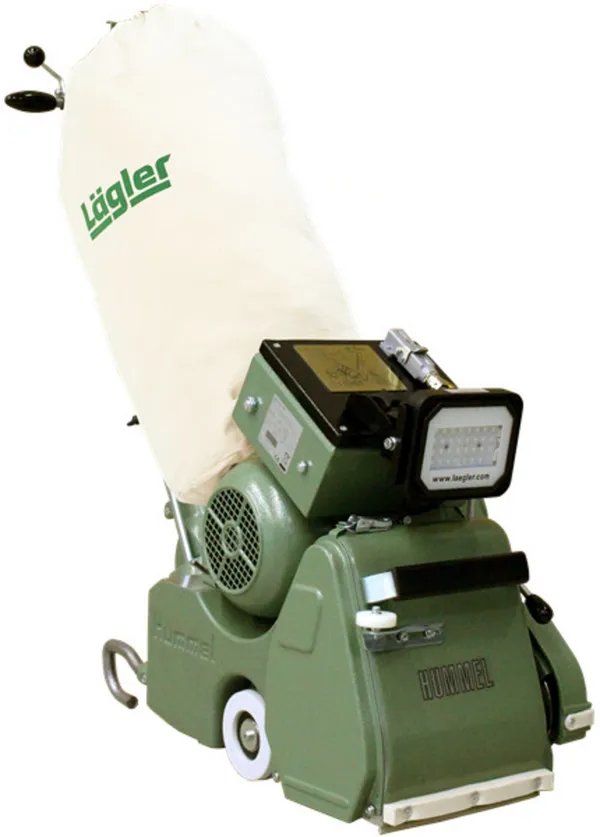 Lagler Hummel 8'' Floor Sander
Description
The Hummel belt sander is the first of its kind and remains a top seller worldwide. This powerful machine provides you with an economical option for professional wood floor sanding on both small and large areas. Work quickly and deliver quality sanding results with the combination of an aggressive sanding drum, three-stage drum pressure regulation and a belt tensioning device with integrated automatic belt guidance. The LED lighting system allows for easier visibility of scratches and sanding marks.
- Perfect sanding of small and large areas
- Extremely economical
- Belt can be changed in seconds
- Fail-safe and sturdy design
- Optimized dust extraction
- Low-fatigue operation
- LED work light eliminates need for separate light source- Includes 100 ft. power cord and dust bag
- Single-phase AC motor with no-voltage release and thermal overload protection: 220V/ 60 CPS/ 2.9KW
- Necessary fuse protection of mains supply: Min. 30 A
- Sanding drum width: 7-7/8"- Sanding drum speed: 2880 RPM
- Sanding belt dimensions: 7-7/8" x 29-1/2"
- Machine weight: 174 lbs.